Business Resources
This page provides resources to assist businesses in protecting their most critical information assets. Check out the links below for valuable security information.
With massive data breaches making headlines on a regular basis, it's hard to ignore the fact that data security is becoming increasingly important. Trust is an essential element of customer relationships. When it comes to Internet security, your customers trust you to protect the personal information they share with you. You would never knowingly put them at risk, but lax computer security practices can do just that -- jeopardize your customers' sensitive information and expose them to threats. If your company has a website, communicates with customers via email, or stores customer information in an electronic database, you could be putting them at risk if you aren't taking the right precautions. Security breaches hurt small businesses the most. More than 70 percent of attacks target small businesses. It is estimated that 60 percent of hacked SMBs go out of business only after six months.
---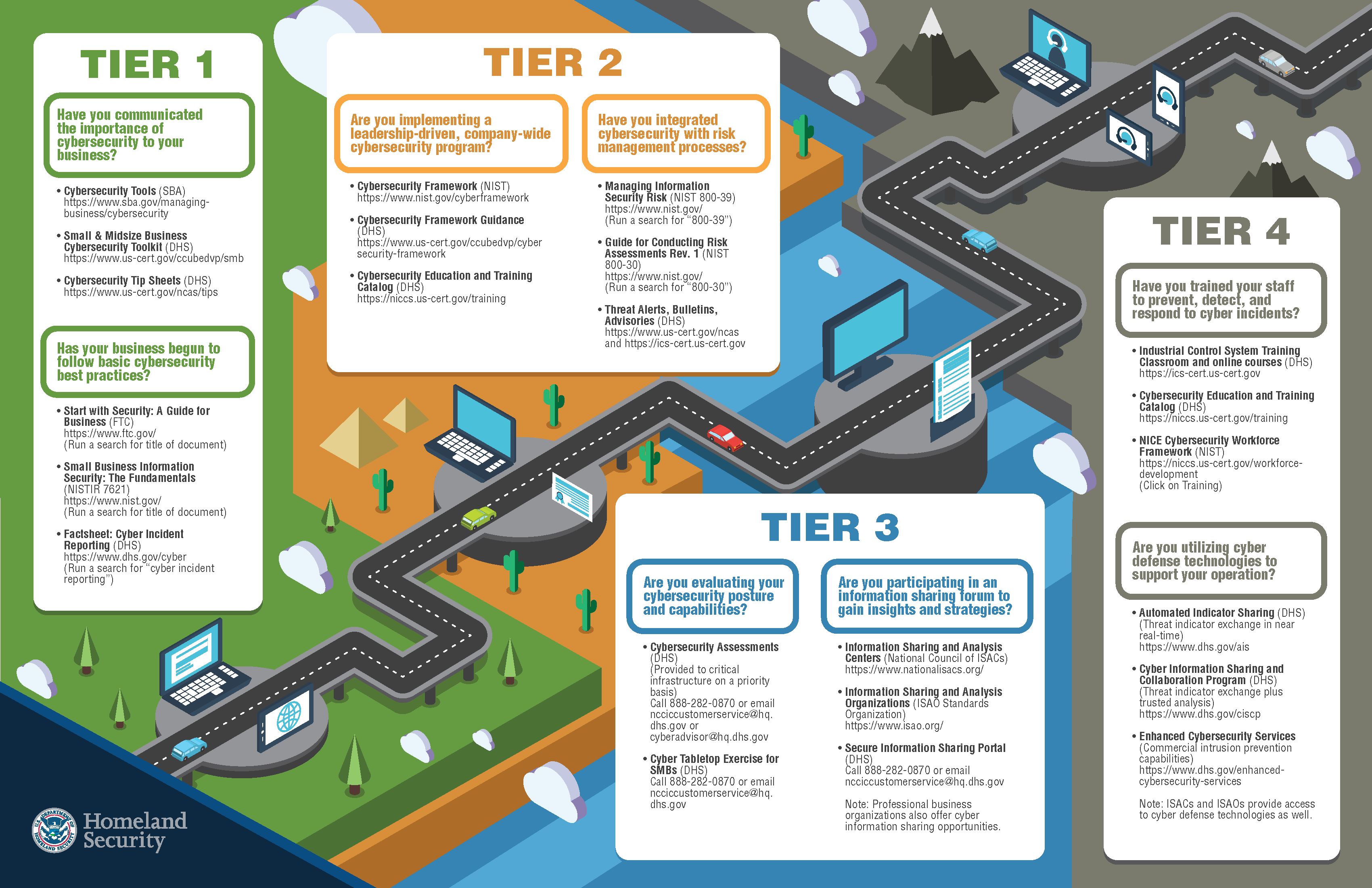 ---
What Are The Threats?
Phishing
FTC Phishing
Visit FTC CyberSecurity for Small Business for more information.
Best Practice Videos
Creating a new app or software package? Includes tips for keeping data secure during product design, development, testing and roll-out.
Companies need to manage who gets their hands on their data. Includes tips for controlling access to sensitive data in your business.
Ransomware can wreak havoc on your business. Learn about ransomware – what it is, how to defend against it, and what to do if your business is the victim of a ransomware attack.
---
Toolkits
---
Training
Cyber Basics for Small Businesses Training
A free, three week training series for small businesses, co-hosted by the Global Cyber Alliance and the Cyber Readiness Institute.
Cybersecurity for Small Businesses
Free online training provided by the U.S. Small Business Administration will help you learn more about security principles you should keep in mind when online, as well as the ways you can protect your information and networks in case of a cyber attack.
Protecting Small Businesses
Free guidance provided by the Federal Trade Commission's Consumer Affairs Division. These materials including tip sheets, online quizzes and guidance to assist small business owners and customers alike
---
We've Had a Breach - Now What?
Data Breach Response: A Guide for Businesses
You just learned that your business experienced a data breach. What steps should you take and whom should you contact if personal information may have been exposed? Although the answers vary from case to case, the following guidance from the Federal Trade Commission (FTC) can help you make smart, sound decisions.
---
Disaster Recovery
You've worked hard to have a successful business. Don't let a power outage, hacker disruption, fire, earthquake or other disaster take it away. If you're not prepared, a disaster could put your business at risk, possibly shutting down your business forever.
Roughly 40 to 60 percent of small businesses never reopen their doors following a disaster. Planning and preparedness can be your lifeline to staying in business. With proper education, planning, testing and disaster assistance, you will be able to stay in business through any interruption and beyond.
Disaster Recovery is the process an organization uses to recover access to their software, data, and/or hardware that are needed to resume the performance of normal, critical business functions after the event of either a natural disaster or a disaster caused by humans.
---
Additional Business Resources